ASAP Technologies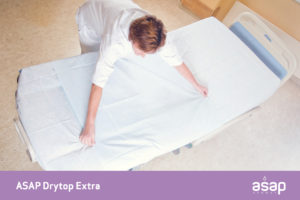 ASAP Super Absorbent Disposable Covers.
Providing easy and efficient infection control, cutting down cleaning time and labor costs, ASAP Protective Covers are the perfect choice when looking for high quality and cost effective solutions.
ASAP Next Generation Protective Covers are produced in Norway with the highest specifications, these covers are environmentally friendly and 100% biodegradable.
Providing comfort and assuring the dignity of the patients, these soft and odour suppressant underlays can absorb 10litres of liquid pr. m2, has a thickness of 0.7mm and a durability rating up to 150kg.
ASAP super absorbent, waterproof and breathable covers have a variety of applications.
They are currently used in hospitals, as protection in birthing beds, on stretchers, in ambulances, morgues, funeral homes and anywhere else where liquid wastes and spills are issues.